Recruit
Ed Tech Recruiting specializes in retained searches for senior technology positions in schools, associations, and companies.
We maintain a network of thousands of technology professionals across the globe.  Many of our searches are for newly created C-level and upper management positions. We take pride in the lasting recruitments we've made in our five years of technology recruiting. Here are a few of our success stories.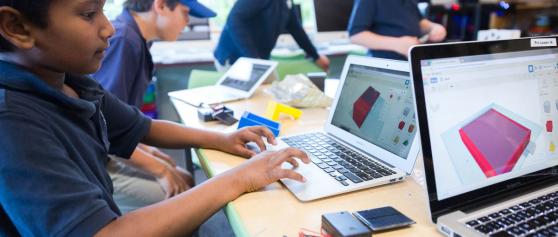 Director of Educational Technology
The Seven Hills School
Search dates
Nov 2019

to

Feb 2020
Location
Walnut Creek, CA
Lakeside is hiring for a director of technology to oversee its technology department—both IT and instructional technology.  Applications now accepted are due October 9, 2019.  The position starts July 1, 2020—or earlier by mutual agreement.

Director of Technology
Lakeside School
Search dates
Sep 2019

to

Dec 2019
Lakeside School, a grades 5-12 independent school in Seattle, WA, announces the hiring of Jamie Britto as its next director of technology.  Mr. Britto most recently served as the chief information officer of Collegiate School in Richmond, Virginia, where he worked since 2006.  He has been involved in numerous associations as a strategic expert on technology issues in school, from cybersecurity to innovation.
This position reports to the assistant head of school for finance and operations.

Chief Information Officer
Westminster
Search dates
Apr 2019

to

Jun 2019
Westminster, a Christian pre-first through grade 12 school with over 1,870 students, nearly 300 faculty, and 180+ acres, announces the hiring of Torrey Williams as its next chief information officer.  Mr. Williams has extensive industry and nonprofit experience as a technology director and leader, and will take over a mission-critical department at one of the largest K-12 schools in the country.
This position reports to the head of school.

Director of Design, Engineering, and Technology
The San Francisco School
Search dates
Jan 2019

to

Mar 2019
Location
San Francisco, CA
The San Francisco School, an independent, coeducational, progressive, K-8 day school in San Francisco, announces the hiring of Carly Reiter as the inaugural director of design, engineering, and technology.  This is a new position that will lead the implementation of a STEAM strategic plan at SFS, a PS/K-8 school known for its progressive education, immersion in music and art, cultural diversity, and challenging academic program.
This position reports to the head of school.

Technology Systems Manager
CAIS
Search dates
Jan 2018

to

May 2018
The California Association of Independent Schools, a non-profit association in Burbank, CA, announces the hiring of Michael Dy to oversee its technology systems, including the continued development of a custom accreditation portal.  For seventeen years, Mr. Dy worked as the IT manager for an internet retail firm based in Los Angeles.
This position reports to the executive director.

Director of Educational Technology
Athenian
Search dates
Feb 2018

to

Apr 2018
The Athenian School, a 6-12, day and boarding school in Danville, CA announces the hiring of Louis Tullo to oversee its technology program: IT, systems, and integration.  Mr. Tullo worked for several years at The King's College in New York, successfully supporting faculty and major systems transitions.  He has also served as IT Engineer and IT Director in the corporate sector.
This new position reports to the director of teaching and learning.